CLICK HERE FOR A FREE ONLINE QUOTE!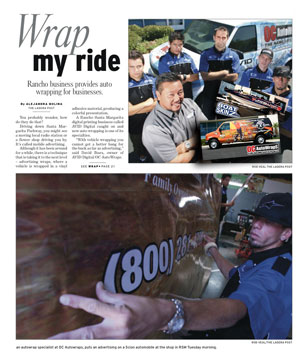 av•id adj.
"Marked by keen interest and enthusiasm"
Avid Digital & OCAutoWraps is a new breed of large format digital printer. Fast, reliable, and efficient are only a few words that describe our crew of dedicated technicians and sales staff. Based in Orange County, California, our hi-tech production facility matched with over 25 years of industry experience, allows us to offer you the best quality digital printing solution that the industry has to offer. There is no job too big or small. Trust Avid Digital...We'll get the job done!
We specialize in full color banners, street pole banners, billboards, bus kings, bus shelters, window graphics, car wraps & fleet graphics, floor graphics, trade show graphics, window graphics, banner hardware, and a whole lot more.

WIDE-FORMAT PRINTING "We can print BIG"
With unlimited sizing capabilities, Avid Digital can print a typical 6' banner & minutes later, print a 40' banner with a simple click of a button. Our materials are extremely durable and match well to our pigmented inks that can last for years outdoors. Our hi-resolution inkjet printers are unmatched in quality and speed. Being digital, our presses can handle a number of different versions of the same print, allowing for different markets to be served. Long gone are the days when it was way too costly to have different affiliates on different prints. Digital printing is the only way to go when you want control.

CAR WRAPS • BOAT WRAPS • TRAILER WRAPS • BUS WRAPS • RV WRAPS
Using the best material the industry has to offer, Avid Digital and OCAutoWraps will turn your everyday ride into a hard working, advertising mobile billboard. Whether it be a large diecut logo, a partial wrap, or a full coverage wrap, our designers will create the perfect combination of class and style with hi-impact advertising. There isn't a better "bang for your buck". Vehicle wrap advertising is proven to place more eyes on your ad for less money than any other form of media available. With your competition already doing it, how can you afford not to? Let us know how we can help you. Don't be fooled by brokers or fly-by-night sign shops. We actually wrap your vehicle with our own hands, unlike others who will just end up hiring us to do it. Make sure you choose our "OCAUTOWRAPS.com" products. You won't regret it.
FABRIC PRINTING • DYE SUBLIMATION • TABLE COVERS • FLAGS
There is no higher quality than with dye-sublimation printing. Our prints are on polyester materials that have the feel of soft fabric, unlike others who print on a coated materials making the final product stiff and rigid. Printed table covers and table cover graphics, runners, flags, teardrop flags, tradeshow graphics, and backdrops are only some of the things that can be made with your imagery on them. You are only limited by your imagination when it comes to our fabric printing capabilities.
OUTDOOR PRINTING
Bus Shelters, Bus Kings, Kiosks, 1 Sheets, 2 sheets, Movie Banners, Taxi Tops, and other outdoor ads are all possible at Avid Digital. We have many years of experience producing outdoor ads for movie studios, advertising agencies, and local businesses. Let us be your outdoor printer. Trust Avid Digital.
CALL OR CLICK
HERE FOR
A FREE QUOTE:
(949)713-5020
Banners
Car Wraps
Fabric Printing
Teardrop Flags
Feather Flags
Table Skirts / Covers
Backdrops
Flags
Boat Wraps
Van Wraps
Box Truck Wraps
Truck Wraps
Trailer Wraps
Any Vehicle Graphic
In-Store Wall Graphics
Tradeshow Graphics
Floor Graphics
Banner Stands
Street Pole Banners
Movie Posters
Bus Shelters
Bus Kings
Bus Taillights
Bus Headlights
Bus Queens
City Kiosks
Mesh Banners
Static Clings
Decals
Window Graphics
Outdoor Ads
Stage Banners
Backlit Signs & Menus